Regular price
$2,480.00
Sale price
$1,984.00
Unit price
per
Sale
Sold out
Special Order
SKU:01.22.10.3115
The Composed Sport Bike
Hop on the Scout and you're immediately transformed into a projectile.
The Scout will awaken your inner child. Manual here, scrub that, skid there, pedal up this. Freedom to boost everything in sight, overshoot every landing without a care, mixed with nose bonking and hooting your way down the trail. Sporty, but just as eager to tackle bigger terrain. The Scout's trail charisma is infectious and will cause you to look at your regular trails through a new perspective. Pedal up and repeat.
| | Frame Alloy |
| --- | --- |
| Frame | Scout Alloy 140mm |
| Rear Shock | Fox Float X Performance Elite 2 Position |
| Weight | 8.9 lbs / 4.06kg (Size MD w/shock) |
Lifetime Warranty
At Transition Bike we take pride in the quality of our products and are stocked to offer a lifetime warranty for the original owner and our stellar crash replacement program., We got your back os you don't have to worry about your bike.
Pivot Technology
Collet main pivot technology improves rear end stiffness and keeps your pivot hardware tight. Additional bearing shields prevent main pivot bearing contamination when washing your bike or riding in wet conditions.
Frame Protection
We keep your bike rides quiet and your frame sage from damage with fully integrated, flush-mounted rubber frame protection at all critical areas. In addition to downtube and seat-stay protection, the ribbed chainstay protector features expanded coverage of the rear dropout pivot area.
Badass Bearings
We exclusively use Enduro MAX suspension pivot specific bearings in standard sizes that ar readiliy available worldwide. Dual bearings are used at the dropout pivots for frame stiffness and additional c-clips lock the rocker bearings in place under the torsional loads.
Gear Accessory Mount
Our underside top-tube accessory mount allows you to carry a spare tube or other goodies safely in your frame incase you are looking to ditch the backpack.
Mega Seatpost Insertion
Dropper posts keep getting longer so we combine short seat tube lengths with mega seatpost insertion to help get your saddle completely out of the way.
User Friendly Cable Routing
To simplify maintenance and keep your bike noise free, the rear derailleur cable is routed through guide tubes in the front triangle and chainstay.
Threaded BB
A standard 73mm threaded bottom bracket shell makes crankset maintenance hassle-free and prevents unwanted press-fit BB related noises.
Press-in Headset
Our ZS44/ZS56 press in headset gives you the freedom to use angle adjust headsets if you feel the need to make your bike a touch slacker or a touch steeper.
Angleset headset does not come with framesets or complete bikes.
Water Bottle Compatibility
We keep your water bottle clean inside the front triangle so you can keep hydrated without worrying about mud making it to your mouth.
Speed Balanced Geometry
SBG ensures the bike maintains low speed agility, front wheel traction, and proper rider weight balance while actually increasing confidence in steep terrain and at high speeds. With SBG, a slacker head tube angle is combined with a all new reduced offset fork standard, preventing the front wheel from being too far in front of the rider. This improves front to rear weight distribution on the bike, which is often out of balance on long and slack bikes. One of SBG's greatest benefits is that it creates a confident steering feel that adapts to wheel speed. More stability when going fast, more agility on technical slow speed maneuvering as well as improved traction, control and confidence for any skill level of rider.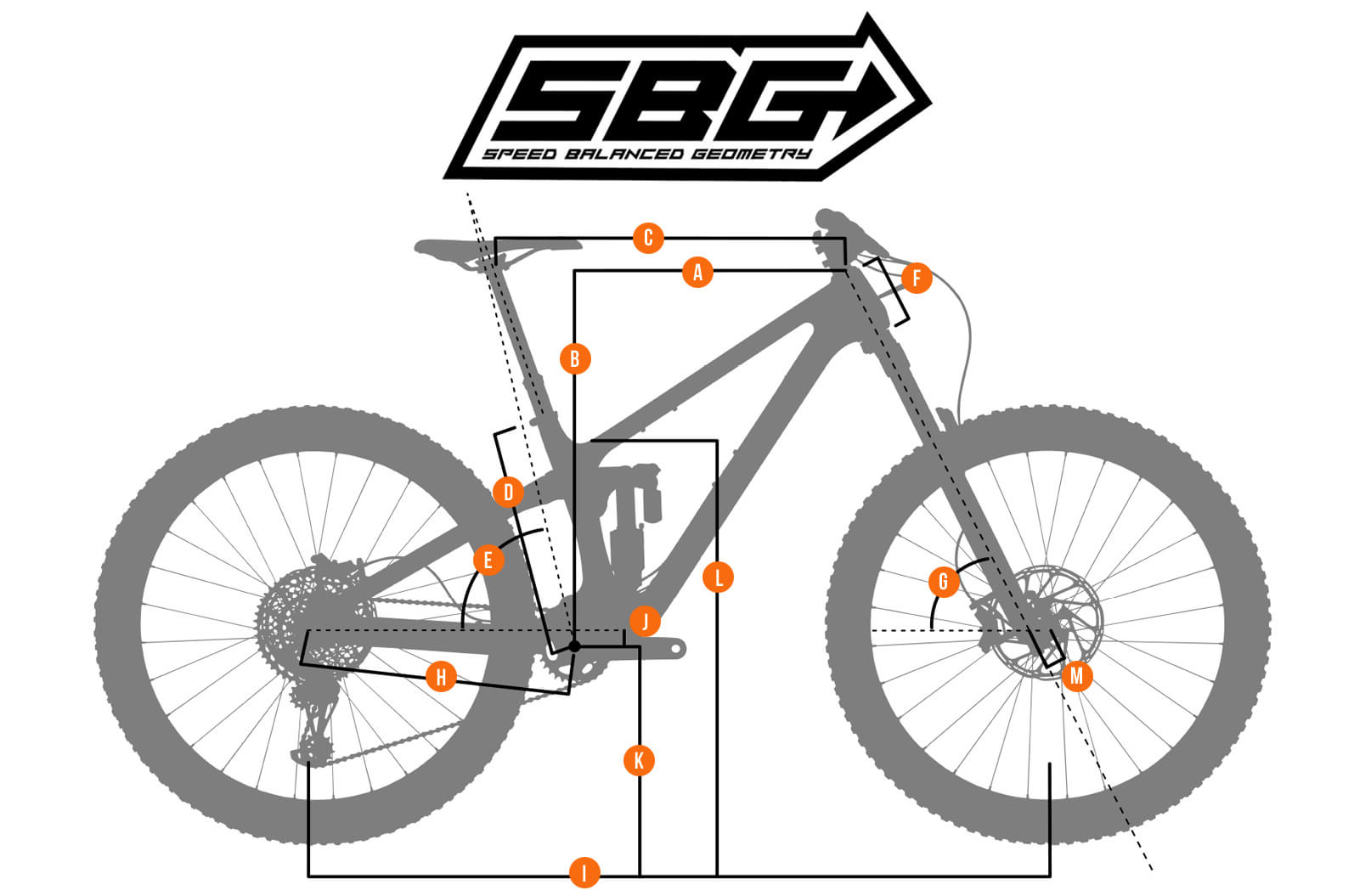 | | XS | SM | MD | LG | XL |
| --- | --- | --- | --- | --- | --- |
| A. Reach | 410mm | 435mm | 460mm | 485mm | 510mm |
| B. Stack | 577mm | 590mm | 604mm | 617mm | 631mm |
| C. Effective TT Length | 534mm | 564mm | 593mm | 623mm | 652mm |
| D. Seat Tube Length | 350mm | 360mm | 390mm | 430mm | 460mm |
| E. Effective ST Angle | 78.2° | 77.7° | 77.2° | 76.8° | 76.4° |
| Saddle Height For Effective St Angle | 560mm | 600mm | 660mm | 720mm | 780mm |
| Actual ST Angle | 72° | 72° | 72° | 72° | 72° |
| Seat Tube Offset At Bb | 63mm | 63mm | 63mm | 63mm | 63mm |
| F. Head Tube Length | 95mm | 110mm | 125mm | 140mm | 155mm |
| G. Head Tube Angle | 64.0° | 64.0° | 64.0° | 64.0° | 64.0° |
| H. Chainstay Length | 430mm | 430mm | 430mm | 430mm | 430mm |
| I. Wheelbase | 1153mm | 1185mm | 1217mm | 1248mm | 1280mm |
| J. Bottom Bracket Drop | 18mm | 18mm | 18mm | 18mm | 18mm |
| K. Estimated BB Height | 337mm | 337mm | 337mm | 337mm | 337mm |
| L. Stand Over Height | 665mm | 665mm | 673mm | 686mm | 698mm |
| M. Fork Offset | 37mm | 37mm | 37mm | 37mm | 37mm |
Share
View full details