Regular price
$5,821.00
Sale price
$4,657.00
Unit price
per
Sale
Sold out
Special Order
SKU:01.22.11.4221
The Hard Charging All-Rounder
The Sentinel inspires confidence like you're wearing full body armour.
It's forgiving do-it-all attitude truly blurs the lines between planted bottomless sender and playful poppy trail pony. Whether you're chasing EWS dreams or just a weekend afternoon escape, it will bring out the best in you. So easy to get acquainted with you'll find yourself sending lines, jumps and maneuvers you always felt were beyond your ability. Where before you went around, now you go over. Where you pushed up, now you pedal. Where you rolled, now you boost.
Specifications
GX
Frame
Sentinel Alloy 150mm
Rear Shock
Fox Float X Performance Elite 2 Position
Fork
Fox Float 36 Grip 2 Performance Elite
160mm Travel/44mm Offset
Headset
FSA No.57E
Stem
ANVL Swage (40mm)
Handlebar
ANVL Mandrel Alloy 35
SM/MD (800x20) LG/XL (800x30) XXL (800x 40)
Grips
Sensus Lite
Saddle
ANVL Forge Cromo
Seatpost
OneUp Dropper Post
SM (150mm) MD (180mm) LG/XL/XXL (210mm)
Brakes
SRAM Code RSC
Rotors
SRAM Centerline (200mm)
Shifter
SRAM GX Eagle
Derailleur
SRAM GX Eagle
Cassette
SRAM XG 1275 (10-52t)
Chain
SRAM GX Eagle
Crank
SRAM GX Eagle DUB (30t/170mm)
Rims
DT Swiss M 1900 Spline 30
Spokes
DT Swiss Champion
Hubs
DT Swiss 370 Ratchet LN
Tyre/Front
Maxxis Assegai 3C EXO+ (29x2.5)
Tyre/Rear
Maxxis Minion DHRII 3C EXO+ (29x2.4)
Included
Tubeless Valves & Stans Sealant (6oz)
Weight
TBD (Size MD)
Lifetime Warranty
At Transition Bikes we take pride in the quality of our products and are stoked to offer a lifetime warranty for the original owner and our stellar crash replacement program. We got your back so you don't have to worry about your bike.
All Carbon Construction
Full carbon frame made form premium Japanese Toray fibre with a tailored blend of 24T and 30T materials to create the right balance of frame stiffness, strength and impact toughness. Out unique latex coated EPS molding process allows for sharper frame lines and tighter edge radius control with maximum strength to weight ratio and less wasted.
Pivot Technology
Collet main pivot technology improves rear end stiffness and keeps your pivot hardware tight. Additional bearing shields prevent amin pivot bearing contamination when washing your bike or riding in wet conditions.
Frame Protection
We keep your bike rides quiet and your frame safe from damage with fully integrated, flush-mounted rubber frame protection at all critical areas. In addition to downtube and seatstay protection, the ribbed chainstay protector features expanded coverage of the rear dropout pivot area.
Badass Bearings
We exclusively use EnduroMAX suspension pivot specific bearings in standard sizes that area readily available worldwide. Dual bearings are used at the dropout pivots for frame stiffness and additional c-clips lock the rocker bearings in place under torsional loads.
Gear Accessory Mount
out underside top-tube accessory mount allows you to carry a spare tube or other goodies safely on your frame in case you are looking to ditch the backpack.
Mega Seatpost Insertion
Dropper posts keep getting longer so we combine short seat tube lengths with mega seatpost insertion to help get your saddle completely out of the way.
Tyre Clearance
Ample clearance for mud and tyres up to 2.6" width.
User Friendly Cable Routing
To simplify maintenance and keep yur bike noise free, the rear derailleur cable is routed through guide tubes in the front triangle and chainstay.
Threaded BB
A standard 73mm threaded bottom bracket shell makes crankset maintenance hassle-free and prevents unwanted press-fit BB related moises.
Press-in Headset
Our ZS44/ZS56 press in headset gives you the freedom to use angle adjust headsets if you feel the need to make your bike a touch slacker or a touch steeper.
Angleset headset does not come with framesets or complete bikes.
Water Bottle Compatibility
We keep your water bottle clean inside the front triangle so you can keep hydrated without worrying about mud making it to your mouth.
Speed Balanced Geometry
SBG ensures the bike maintains low speed agility, front wheel traction, and proper rider weight balance while actually increasing confidence in steep terrain and at high speeds. With SBG, a slacker head tube angle is combined with a all new reduced offset fork standard, preventing the front wheel from being too far in front of the rider. This improves front to rear weight distribution on the bike, which is often out of balance on long and slack bikes. One of SBG's greatest benefits is that it creates a confident steering feel that adapts to wheel speed. More stability when going fast, more agility on technical slow speed maneuvering as well as improved traction, control and confidence for any skill level of rider.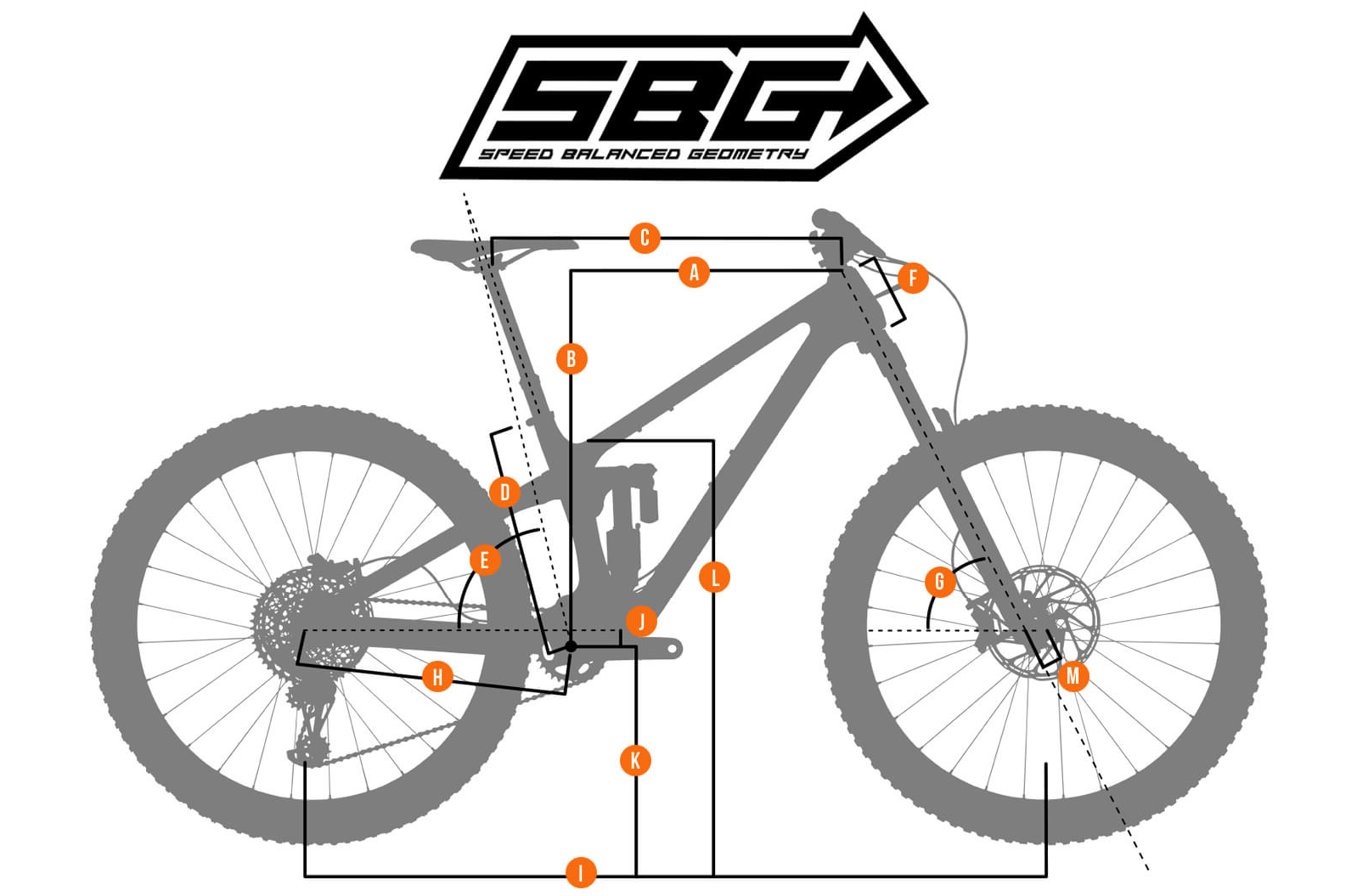 | | SM | MD | LG | XL | XXL |
| --- | --- | --- | --- | --- | --- |
| A. Reach | 420mm | 450mm | 476mm | 501mm | 521mm |
| B. Stack | 613mm | 622mm | 631mm | 640mm | 649mm |
| C. Effective Tt Length | 552mm | 585mm | 613mm | 641mm | 665mm |
| D. Seat Tube Length | 350mm | 390mm | 430mm | 460mm | 490mm |
| E. Effective St Angle | 78.2° | 77.5° | 76.9° | 76.4° | 76.0° |
| Saddle Height For Effective ST Angle | 600mm | 660mm | 720mm | 780mm | 820mm |
| Actual ST Angle | 70.8° | 70.8° | 70.8° | 70.8° | 70.8° |
| Seat Tube Offset AT BB | 87mm | 87mm | 87mm | 87mm | 87mm |
| F. Head Tube Length | 100mm | 110mm | 120mm | 130mm | 140mm |
| G. Head Tube Angle | 63.6° | 63.6° | 63.6° | 63.6° | 63.6° |
| H. Chainstay Length | 440mm | 440mm | 440mm | 440mm | 440mm |
| I. Wheelbase | 1199mm | 1233mm | 1263mm | 1292mm | 1316mm |
| J. Bottom Bracket Drop | 29mm | 29mm | 29mm | 29mm | 29mm |
| K. Estimated BB Height | 346mm | 346mm | 346mm | 347mm | 347mm |
| L. Stand Over Height | 671mm | 688mm | 700mm | 712mm | 722mm |
| M. Fork Offset | 43mm | 43mm | 43mm | 43mm | 43mm |
GiddyUp Suspension Design
We want to make it as easy as possible to experience great rear suspension performance. The GiddyUp suspension system is designed to behave intuitively across a broad range of setup. Because, we get it, sometimes you just want to grab your bike and GiddyUp, without checking your setup. When you do, it will always feel good.
We did this by balancing a 24% progressive leverage curve with a consistent linear rate of change. Anti-squat is tuned to enhance pedaling performance and acceleration. Overall chain growth is moderate and reduces after sag so chain tension doesn't get in the way of the suspension working.
This translates to killer small bump compliance and great mid-stroke support that gradually transitions into an end of stroke ramp that is subtle, yet supportive. The amount of consistent progression is carefully optimized for both air and coil shocks. Riders are able to add or remove volume spacers in air shocks to suite their individual riding style and there is no compromise to bottom out support with coil shocks. The Sentinel has 150mm of rear wheel travel when used with the supplied 205mm x 62.5mm stroke shock. It is also possible to install a shorter, 205mm x 57.5mm stroke shock, to decrease the rear wheel travel to 140mm.
A wide usable sag range of 25 - 35% allows the rider to tune the feel of the bike; from poppy and playful, to planted for plowing. Wherever you end up, you can focus on the trail without remotes, levers or knobs. Just grab your bike and GiddyUp.
Share
View full details